California Artisan Cheese Festival - Cheese Tour
It was quite possibly the best 135 dollars a cheese lover could ever spend.
California's 7th annual Artisan Cheese Festival happened March 22, 23, and 24, 2013. Cheese lovers from all over the state and country come to try new cheeses, meet cheese makers, attend seminars, and learn more about cheese. Among Friday's events are the cheese tours. This year there were 5 to choose from. The tour we picked took us to Cowgirl Creamery and Point Reyese Farmstead Cheese Company.
This was my first year attending, and I wasn't sure what to expect.
It was awesome.
Our tour guide was Elizabeth Hill, who owns and operates West Marin Food & Farm Tours. It was great having a tour guide who grew up in and loves the area where we toured. Elizabeth was full of knowledge and contagious enthusiasm for the local agriculture and food industries.
Our first stop was Cowgirl Creamery at Point Reyes Station. We met one of the co-founders, Peggy Smith, and tried 5 different cheeses made by Cowgirl Creamery.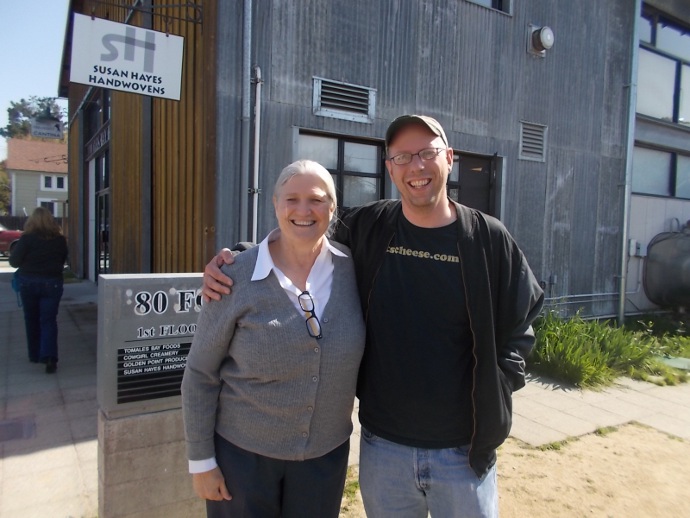 Our first cheese we tried was Fromage Blanc. This spreadable, fresh cheese was the first type of cheese they made at the Cowgirl, and it was delicious. "The way cream cheese used to be made" is how they described it.
Next up was probably Cowgirl Creamery's most famous cheese, Mt. Tam, their bloomy rind, triple-cream piece of heaven. The cheese we sampled was 6 weeks old, which the Cowgirl manager says is his favorite age for the cheese. (It's usually about 4 weeks old when it hits store shelves.) The cheese is covered in the same mold as Brie or Camembert, but holds it shape better and does not get runny.
Mt. Tam was followed by Cowgirl Creamery's other famous cheese, Red Hawk. Red Hawk is a wash rind (aka smelly) cheese, which I've read about and tried before (you can read more about the cheese in my cheese guide, but I learned a few new things about it.
For one, the Brevibacterium linens, the bacteria that makes the cheese smelly and gives it its orange rind, is not added to the cheese culture. The bacteria occurs naturally in the air near their Point Reyes creamery. They would not be able to make the cheese at their other plant in Petaluma, less than 20 miles away. Also, as far as anyone at Cowgirl Creamery knows, Red Hawk is the world's only triple-cream, wash-rind cheese.
And then I learned, by experience, that if you have a hard time with smelly cheeses, the secret to enjoying them is take small bites. When you take a large bite of Red Hawk, at first all you get is a taste of buttery goodness. Then about 3 seconds later, the taste of gym socks comes and takes your bliss away. Eaten in small bites, the cheese is easier for those of us who haven't quite developed the pallet for locker room bacteria.
Red Hawk cheese will also taste different depending on the season. In fact some of the employees will call the cheese Winter Hawk and Summer Hawk, depending on when it's made. Part of the reason is that milk itself changes depending on what the cows eat. But even more so, the first night of it's life, Red Hawk spends the night in the production room, which isn't temperature controlled. Afterward the cheeses are stored in a climate-controlled aging room, but that first night can have an impact on the later taste of the cheese.
The photos below show the room where they make Red Hawk, and the aging room where it is stored.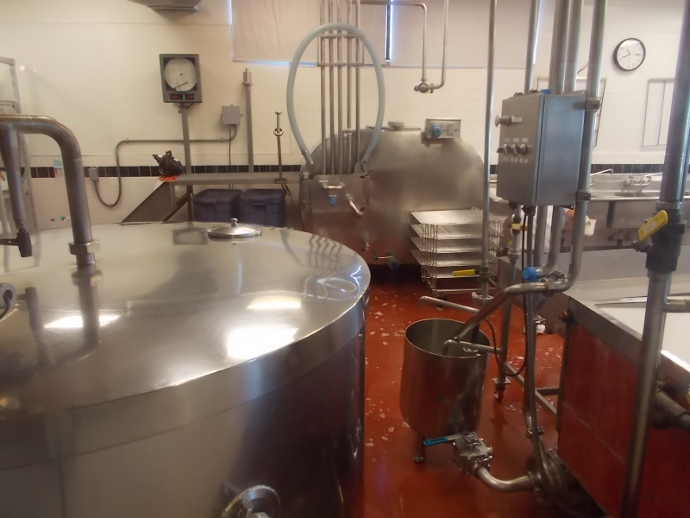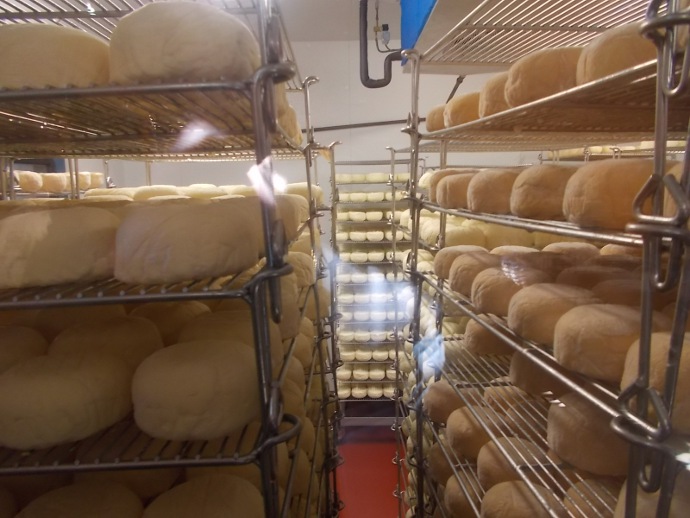 After we tried to Red Hawk, I was excited when they brought out St. Pat. St. Pat is one of their seasonal cheeses, which they release on St Patricks day. Their four seasonal cheeses are made from the milk of a different herd than their other cheeses. Most Cowgirl cheeses are made from the milk of a mixed herd of Holsteins and Jersey cows, from the Strauss family's dairy. The seasonal cheeses are made of milk only from Jersey cows, from the Chileno Valley Dairy. Jersey cows produce less milk than Holsteins, but their milk contains a greater fat content.
St. Pat is wrapped in the leaves from the stinging nettle plant (after they've been de-stung). The leaves add a little vegetal quality to the cheese.
Wagon Wheel was the next cheese we tried. I've wanted to try this one for some time, so I was excited, and not disappointed. Wagon Wheel is firm, pressed table cheese. They described it as similar to a young Asiago, but I thought it was much better than any Asiago I've ever had. The cheese was nutty and tangy. It's the type of cheese you could snack on, and snack on, and keep snacking on.
When our time was up at Cowgirl Creamery, a quick bus ride then took us to the Point Reyes Farmstead Cheese Company.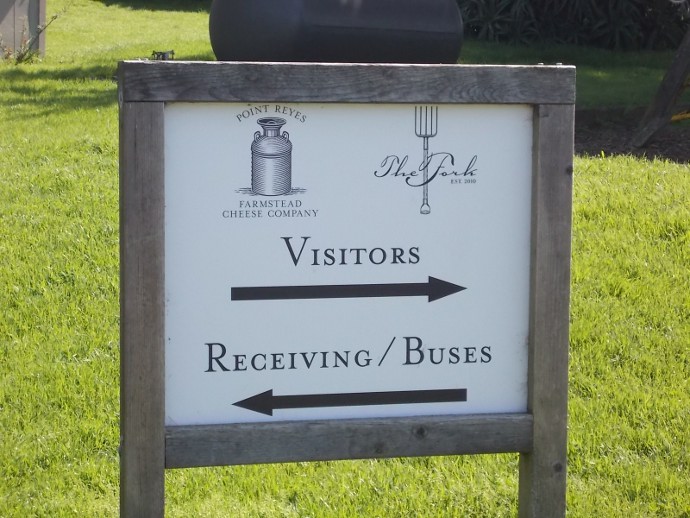 The Giacomini family has been raising and milking Holstein cattle there for decades since Bob Giacomini purchased his dairy farm in 1959. In addition to raising cattle on the land, Bob and his wife Dean raised four daughters.
In 2000 these four daughters, Karen, Diana, Lynn and Jill, returned to the family farm to help their father acheive his dream of making cheese. They produced the first blue cheese in California, Point Reyes Original Blue.
The property is beautiful.
I wish I had taken more pictures.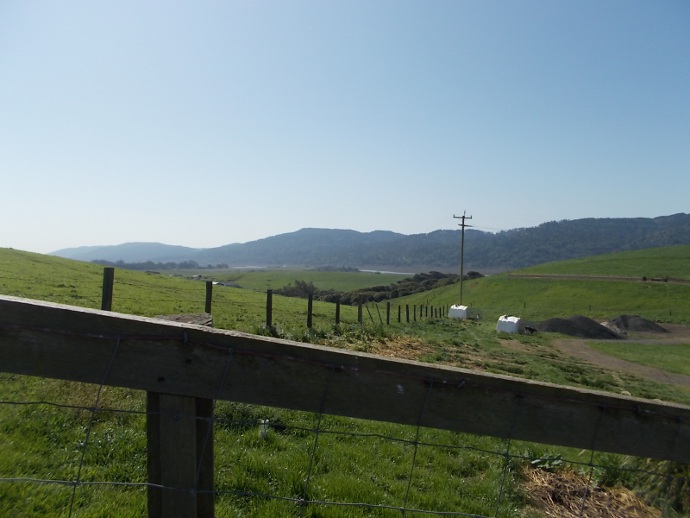 The scenery reminded me of the "Happy Cows come from California" commercials.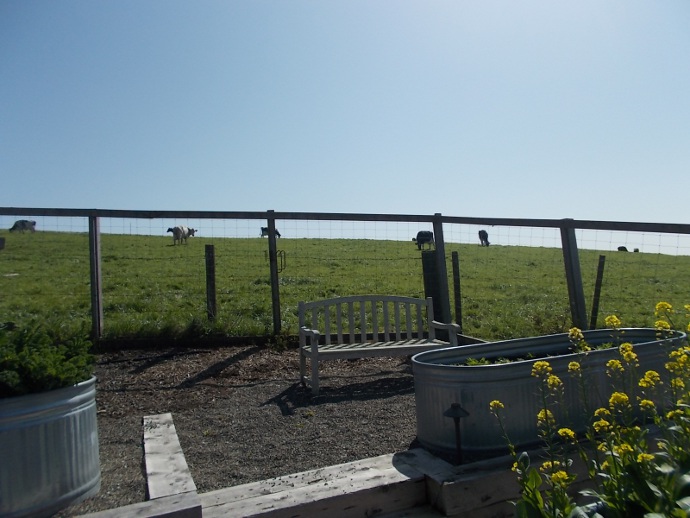 These next cows are pregnant. Are pregnant cows happy?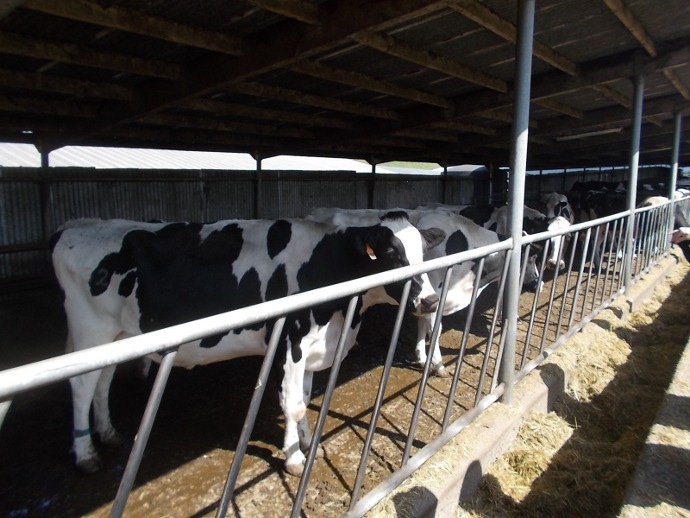 Baby calfs get their own condos.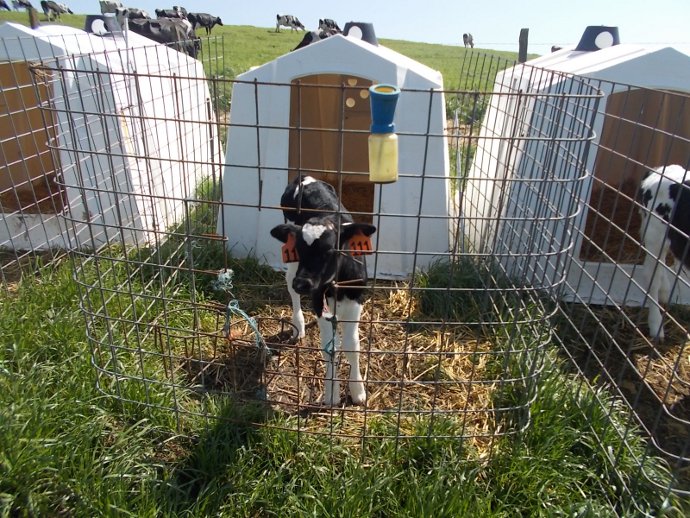 A quick tour of the grounds brought us to their methane digester (where they turn cow poo into electricity), the building where they keep their feed, the milking building, and the cheese making facilities. We didn't actually get to go inside where they make the cheese, and they weren't making any while we were there, but large windows let you peer into the cheese making room, and a smaller window let's you look into the aging room where they were aging their Toma cheese.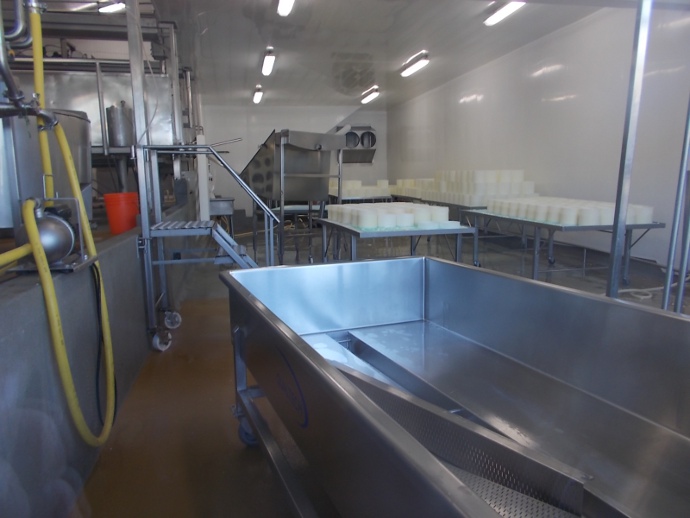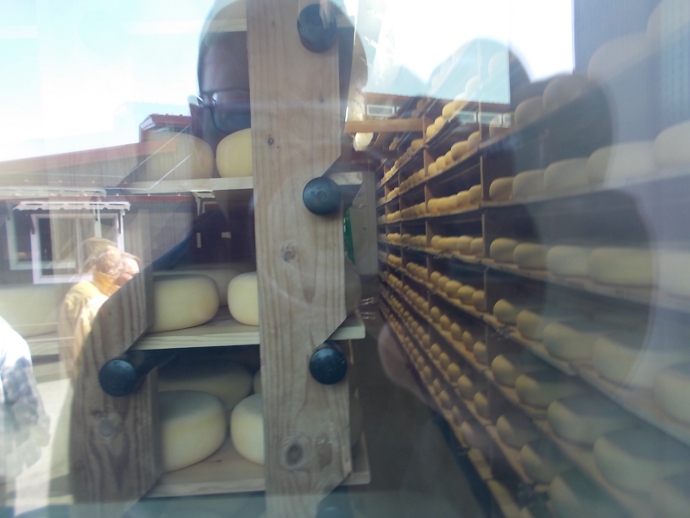 The cheeses here are farmstead cheeses. This means that the animals live on the same property where the cheese is made. And the milking building is probably only 50 feet away from where the cheese milking building is. Their head cheese maker told us later they never use milk that is older than 24 hours old, and usually they use milk much fresher than that.
After the tour we had a cheese tasting and lunch at The Fork - the Giacomini's onsite food education center. We tried 6 cheeses, including a couple of "secret" cheeses that aren't available to the public.
You can see below the beautiful assortment of cheeses they had for us. Starting from the top left, there was Original Blue, Toma, Farmstead, Bay Blue, and Toma Reserve. There was also a two-day old Mozzarella.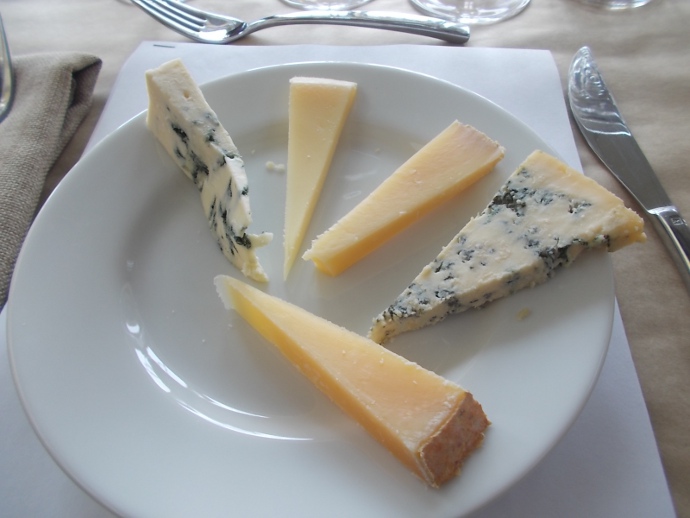 Okay. I lived in Italy for almost two years. This was probably better than any of the Mozzarellas I ever had there. Only problem I had with their Mozzarella was that you almost have to live there locally to find it.
Their three-month old Toma was excellent, somewhat of a cross between Gouda and Havarti. Like the Wagon Wheel we had earlier in the day, it would make a good, verstatile table cheese.
Their "Farmhouse" cheese was a mistake. A delicious mistake. A batch of Toma didn't turn out quite right, so they aged it quite a bit longer. The cheese was 14 months old by the time we got it. It reminded me of the type of West-country Farmhouse Cheddars that come from the south west of England. Good stuff.
Most of us taking the cheese tour thought they should make that same mistake again, and again.
Our fourth cheese, Bay Blue, was a very complex, yummy blue. Mild, with a strong finish, there were so many layers of flavor you couldn't keep track of them all. And crunchy cassein crystals - I don't think I've ever had a Blue with cassein crystals before. Kuba Hemmerling, their head cheese maker, told us that the cheese experts at U.C. Davis said that Bay Blue was a flawed blue cheese.
Flawed? Cassein crystals are my favorite part of Parmigiano Reggiano Stravechhio. I'm not much of a Blue fan, but Bay Blue is probably my new favorite Blue. Very good stuff.
The Bay Blue was followed by a two-year old Toma. It was similar to the younger Toma, but less like Havarti and more like Gouda. It was stronger in taste, and very good.
The cheese tasting was completed by Original Blue. Like I mentioned before, I'm not a big fan of Blue Cheese, and so this wasn't my favorite. But if I did like Blue I'm sure I'd love Original Blue. It was much stronger than Bay Blue, and had a completely different texture. The cheese was buttery and soft enough to be spreadable.
The day was finished off with an excellent 4 course meal and cooking demonstrations from Chef Elizabeth Binder. Elizabeth was recently a contestant on Top Chef - Seattle. The food was great.
I would highly recommend both places to any cheese lover. If you don't want to wait for the 8th annual California Artisan Cheese Festival to visit these places, Cowgirl Creamery offers tours at both their Point Reyes and Petaluma creameries. And Point Reyes Farmstead hosts many classes and other events at The Fork.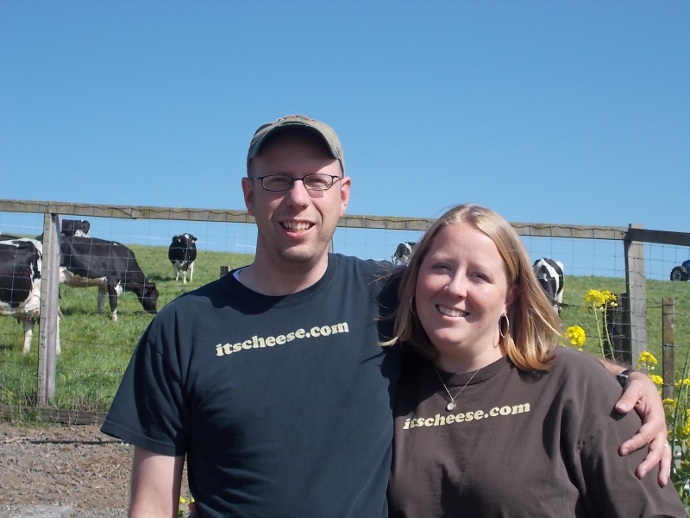 Or even better, I'd recommend going on a tour with West Marin Food & Farm Tours. It costs about the same as I paid for my cheese tasting tour, but with two extra stops: Nicasio Valley Cheese Company and Marin French Cheese Company. (The Petit Dejeuner at Marin French Cheese company one my favorite soft cheeses, and pretty hard to find.) You can find out about Elizabeth's tours on her website.