Mt Tam
Mt Tam is a triple-cream, bloomy rind cows milk cheese made by Cowgirl Creamery in Marin County, California. The cheese is named after Mt. Tamalpais, one of the tallest mountains in California's coastal ranges.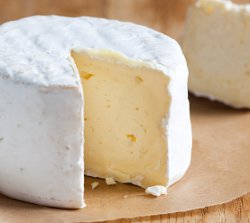 photo credit
Mt. Tam is made into small, 10-ounce rounds. The rind is covered in a layer of white mold, and the straw-colored interior is soft, with a few eyes. Mt. Tam has a mellow, buttery, earthy flavor. It is aged at least 3 weeks.
The cheese is made from pasteurized, organic milk from the nearby Straus Family Dairy, using vegetarian rennet. Cream is added to the cheese.
Serve Mt Tam on good bread or eat it by itself.
Where to buy
Mt. Tam is Cowgirl Creamery's most popular cheese, and you can find it in several places. In Northern California we've found it at Nugget Markets and Whole Foods.
You can also find it at Cowgirl Creamery's website.