Red Dragon
Red Dragon is a Cheddar-type cheese from Wales made with brown ale and mustard seeds. It is sometimes also called Y-Fenni. Red Dragon is a relatively new cheese.
Red Dragon is moist yet firm. It is made from pasteurized cow milk and vegetable rennet and is aged for 3 months. It is made in cylinder shaped forms of about 3 lbs. The mustard seeds add both to the texture and the taste of the cheese. The taste has been described as buttery and spicy, but not too spicy. Some have compared it to the taste of sharp cheddar.
The name Red Dragon comes from the Welsh flag, which prominently displays (you guessed it) a red dragon. The name Y-Fenni is the Welsh name for the town in which the cheese is made. (The town's name is Abergavenny in English.) Red Dragon cheese is encased in red wax. Y-Fenni is encased in yellow wax. Besides the color of the wax, and the name of the cheese, the cheeses are the same.
Besides eating it by itself, Red Dragon is good on burgers, grilled cheese sandwiches, and other dishes. Red Dragon melts well.
Where to buy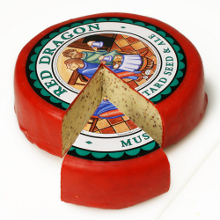 Because of its interesting taste and appearance, Red Dragon is becoming easier to find. However, if you can't find it in a local cheese shop or grocery store, you can order it online at amazon.com