Harlech
Harlech is a Welsh Cheddar with horseradish sauce and parsley added to enhance the flavor.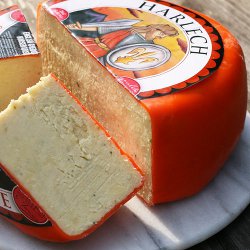 The addition of horseradish makes Harlech cheese zesty and spicy. It is somewhat creamier than most Cheddars. It goes well with beef, and can be melted over steak or added to roast beef sandwiches. It also goes well with apples, and with crusty wheat bread.
It also used as a table cheese, and can add variety to a cheese board.
The cheese is made in wheels that weigh about 4 pounds. The wheels are coated in an orange wax with a picture of a medieval Welsh warrior on the label. Harlech is named after Harlech castle, build in Wales in the 13th century and overlooking the sea.
Harlech is made with pasteurized cow's milk and vegetarian rennet.
Where to buy
If you find a store selling other modern Welsh cheeses such as Red Dragon, you'll probably find Harlech on the same shelf near by.
You can find Harlech online at amazon.com