Ewephoria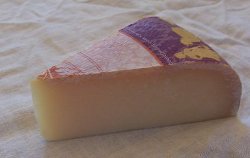 Ewephoria is a pasteurized sheep milk cheese from North Holland. The cheese is made as a Gouda style.
This Dutch cheese very obviously doesn't have a Dutch name. It is a joint venture between a small family owned farm in Holland and CheeseLand, a Seattle-based importer of Dutch cheeses. The cheese was developed for the American market. It is also a relatively recent cheese, first appearing somewhere around 2004.
Ewephoria is surprisingly sweet for a cheese. It has somewhat of a subdued sheepy taste that you'd expect from sheep milk cheeses, but the strongest flavor you experience is that of caramel or butterscotch.
The cheese is aged 4 to 12 months, is somewhat dry, and semi-hard. It has a thin, inedible rind with the cheeses distinctive label. the cheese is made into wheels that weigh about 10 pounds.
Ewephoria Cheese Review
We reviewed Ewephoria (and a couple of other sheep milk cheeses) in December of 2010. You can read our Ewephoria Cheese Review (and watch the video) here.
Where to buy
Ewephoria is not a very common cheese. We found our wedge at Nugget Market in northern California. It can also be found online at amazon.com and Murray's Cheese.