Boursault
Boursault is a small, triple cream cheese from northern France. Boursault is made from cows milk and has a high fat content, making it very creamy. It has a rich creamy, buttery, slightly nutty flavor that is a bit salty with a slight citrus tang. It has a thin white rind with light penicillin mold similar to Camembert. It has a white interior and is sold in small cylinder shaped rounds.
Boursault is aged about 2 months, and then up to one more month in its packaging. It should be eaten within a week of purchase.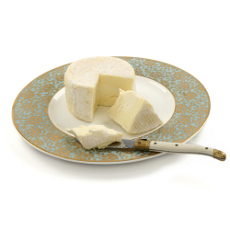 Boursault is a relatively new type of cheese. It was invented by Henri Boursault in 1953.
There is also a goat's milk variety called Boursault Chèvre.
Where to buy
Boursault is sold throughout France but may be harder to find elsewhere. You can sometimes find it at igourmet.com, but it's not always in stock. (You can click on the "Notify When In Stock" button and they will e-mail you when they have some.)