Cow vs Water Buffalo Mozzarella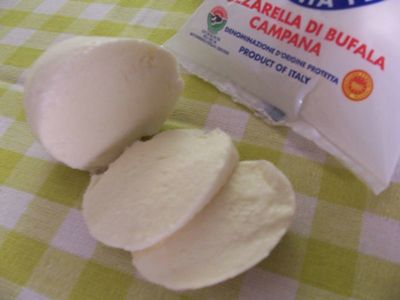 Many people don't know that Mozzarella cheese is traditionally made from water buffalo milk. Mozzarella from water buffallo, or Mozzarella di Bufala is considered to be higher quality and better tasting than Mozzarella made frow cow milk.
I wanted to know if it was really better, or if cheese snobs just say it's better. I had to wait a few months, though. Nugget Market here in Sacramento carries it, but they only sell it in the summer.
Then Saturday came. My cell phone rang. I'd completely forgotten that when I asked about Mozzarella di Bufala three months ago they asked for my phone number to let me know when it came in. I was excited, but had to wait until Monday until I had a chance to go to the store and buy some. I bought some Mozzarella di Bufala, imported from Italy, and some cow milk Mozzarella, made in Wisconsin, packed in water.
Less than a couple hours later, it was all gone.
So, what's the difference between the two?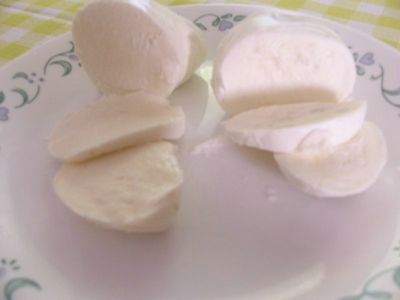 In the photo I have Mozzarella from cow milk on the left, and Mozzarella di Bufala on the right. Before I did the review I was worried I'd have problems telling them apart, but there are differences. Physically speaking, the cheese made from water buffalo milk was a brighter white, softer, less firm, and more moist. It was easier to tear apart the Mozzarella di Bufala than the cow milk variety. Squeezed lightly between the fingertips, Mozzarella di Bufala felt a little spongy compared to the other kind.
In terms of taste, the Mozzarella di Bufala had a stronger (but not too strong), tangier, almost (but not quite) sour taste to it. It was tangy, yet smooth, if that makes any sense. Cow milk Mozzarella by comparison was much sweeter and milder.
I had all three of my kids and my wife taste the cheese, without telling them which one was which. I like asking my kids because kids don't know which one is supposed to taste better. All four of them liked the cow milk Mozzarella best, when served by itself. My oldest son suggested maybe because it's the one we are used to.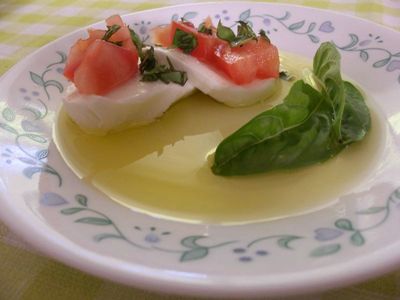 We tried the Mozzarellas served three other ways. We had Mozzarella served with roma tomatoes and fresh basil with and without olive oil, and Mozzarella served with extra virgin olive oil and cracked peppercorn. I had never had Mozzarella with olive oil and pepper before, but someone had suggested it to me so I decided to try it.
Can't say I'm a big fan of Mozzarella with pepper. It's okay, but no wow factor. The cow milk again did better served that way than the buffalo milk.
But I am a big fan of Mozzarella served with tomatoes and basil. And I would have to say that the buffalo milk mozzarella did much better than the cow milk mozzarella. The Mozzarella di Bufala seemed to enhance the flavor of tomato and basil. Cow milk Mozzarella still goes well with tomatoes and basil, but compared to water buffalo milk Mozzarella, the cow milk seemed to try to compete with tomatoes and basil.
That surprised me a little. I have tomatoes, basil, and cow milk Mozzarella several times a year, and I would never had said that the cheese tries to compete with the basil and tomato if I hadn't tried it side-by-side with buffalo Mozzarella.
Overall, I love both cheeses, and would recommend either one, especially over the low-moisture Mozzarella that you find in almost every grocery store. We liked the cow milk better by itself, but I wonder if I would have had a different opinion had the Mozzarella di Bufala been as fresh as the stuff you buy in Italy. (It's pretty close to impossible to get hours-old cheese from Italy here in California.)
The Mozzarella di Bufala is more expensive, but worth buying even if it's just so you can brag to all your friends that you have a ball of buffalo milk Mozzarella in your fridge.