Provel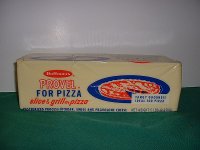 photo credit
Provel is a white, processed cheese made from Cheddar, Swiss, and Provolone cheeses. It is common in St. Louis, Missouri, in the United States, but is almost unknown in most of the world. It is used on St. Louis style pizzas, and is also used on salads, sandwiches, and chicken.
Provel is soft at room temperature and has a low melting point. It is used on St. Louis style pizzas instead of Mozzarella because it has a "clean bite". This means that it is not stringy, like most pizza cheeses.
Because of Provel's moisture content, it cannot be labeled as cheese in the U.S. Instead it is labeled as "process cheese". Even though it is processed cheese, it is closer to being a real cheese than most cheeses labeled as American Cheese.
Below is a 6 minute video we found on YouTube about St. Louis style pizza. The first half talks about Provel cheese.
Where to buy
Provel may be difficult to find outside of the St. Louis area. We found it online at amazon.com.