Midnight Moon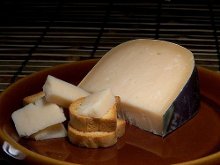 photo credit
Midnight Moon is a Gouda style cheese made from pasteurized goats milk. The cheese is made in Holland for the California cheesemaker Cypress Grove Chevre.
Midnight Moon has a black wax rind with a pale, ivory color interior. The semi-hard cheese is firm and dense, with a slight graininess. The cheese is made into 9 pound wheels, with a 12 month shelf life if the cheese is uncut. The cheese is aged at least 6 months.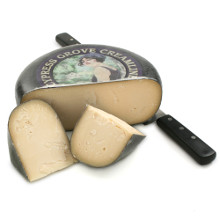 Midnight Moon's flavor is nutty, buttery, and salty, with a caramel sweetness. The cheese often has amino acid crystals similar to Parmigiano Reggiano. Midnight Moon's aroma is mild. Midnight Moon goes well with fresh fruit and cured meats.
Midnight Moon is made with vegetarian rennet.
Where to buy
We've seen Midnight Moon in several grocery stores in Northern California. If Midnight Moon is not available where you live, you can order it online from amazon.com.