Liederkranz
Liederkranz is back. This smelly cow-milk cheese was extinct cheese from 1985 - 2010, but has been brought back to life in Wisconsin.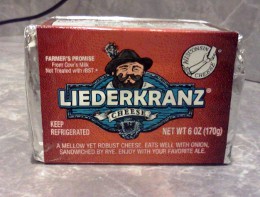 photo credit
Liederkranz was first created in the late 1800's by a cheesemaker in Monroe, New York, named Emil Frey. The cheese was developed to imitate Limburger to fill the demand by German immigrants for the cheese.
Production stayed in New York for several years. Due to various ownership changes, production began in Ohio in 1926. In 1929 the company making Leiderkranz was acquired by the Borden Company who continued to make the cheese until 1981. After a fire damaged their plant, Borden decided to no longer make Leiderkranz, and production was again started in Ohio by the Fisher Company. In 1985, due to bacterial contamination of a batch of cheese, the Fisher Company ceased making Leiderkranz.
Several years went by, and many believed the cheese and its bacterial cultures needed to make it had gone extinct. Through a couple more ownership changes, Leiderkranz became available again through the DCI Cheese Company in Wisconsin.
A close cousin to Limburger, Leiderkranz is made in small rectangular blocks from cow's milk. It has an edible, pale yellow or tan crust, with a semi-soft, pale interior. The cheese is smelly, though many describe it as slightly less pungent than Limburger, and somewhat creamier. The label says that Leiderkranz is "A mellow yet robust cheese".
The bacteria involved in making Leiderkranz is different than the one used in making Limburger. Leiderkranz is a smear-ripened cheese, meaning that a bacterial solution is applied periodically to the rind of the cheese during maturation.
The cheese is served with rye bread, dark ales, and sometimes fruit.
Below is a video put on YouTube by the DCI Cheese company about Liederkranz.
Where to buy
Liederkranz is rising in popularity, but is harder to find than Limburger. You are more likely to find it in the eastern half of the United States than in the west. If you live somewhere it's not readily available in grocery stores, you can find it online at amazon.com.