Huntsman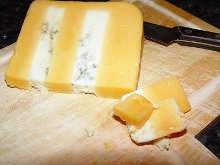 photo credit
Huntsman is a combination of two English cheeses: Stilton and Double Gloucester. The cheeses are layered by hand, and completely encased in Double Gloucester.
Huntsman is a relatively new cheese; it has been made since the 1980's by the Long Clawson Dairy in England. The name Huntsman is trademarked, so if other dairies make similar cheeses they have to call it something else. For example, Stilchester is another brand of cheese that combines Stilton and Double Gloucester.
Where to buy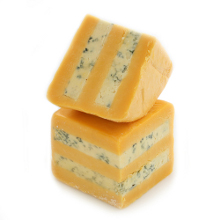 We've found Huntsman periodically, but not consistently, in high-end grocery stores with good cheese departments here in California.
If you can't find Huntsman in a local shop you can order it online at amazon.com