Arzua-Ulloa
Arzua-Ulloa is a fresh cow's milk cheese from the Galicia region of Spain. It is similar to Tetilla, but has a different shape. (The cheese is in the typical wheel-shape common to many cheeses.) It is sometimes called Queso de Ulloa.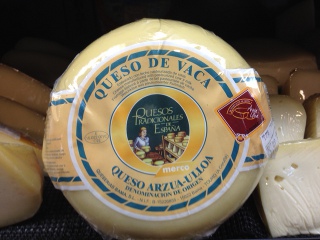 The cheese is described as lightly sweet, creamy, and with a hint of bitterness. The cheese can be made with pasteurized or unpasteurized cow's milk. The name Arzua-Ulloa is protected in Europe, and is only made in the provinces of La Coruña, Lugo, and Pontevedra.
There are three types of Arzua-Ulloa:
Arzua-Ulloa is the normal variety, made in creameries or factories.
Queso Arzua-Ulloa de Granja is the farm-made variety. To be labeled as such the producer must use milk from cows at the same facility the cheese is made.
Queso Arzua-Ulloa Curado is cheese that has been aged at least 6 months.
Where to buy
We haven't found any online sources that sell Ulloa cheese, but a few of our readers have found it locally in the United States. (See comments below.)
If you know of any place that sells Arzua-Ulloa cheese, please let us know. (Or leave a comment in the comments section below.)