Abondance
First, a disclaimer. In researching Abondance cheese, we found lots of conflicting information on the Internet. In compiling that information for this article we either chose what seemed most likely to be true, left it out because we couldn't tell, or (see section on 'Labeling' below) kept the conflicting information. This article, therefore, should not be taken as authoritative on the subject of Abondance cheese, even though we've tried to be as accurate as we could.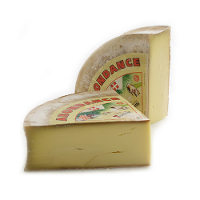 Abondance is a semi-hard, unpasteurized, cow milk cheese from the Haute-Savoie department of France, near the Swiss border. The cheese dates back to at least the 12th century, and was originally made by monks.
The wheel-shaped cheese has an amber color, inedible rind that retains the cloth marks from its production. The edge of the cheese is concave. The interior of the cheese is ivory or pale yellow in color, with occasional small holes. Abondance has a fragrant, nutty aroma. The flavor is distinct and complex, slightly acidic, with a lingering aftertaste. It is somewhat similar to Beaufort and Comté. The cheeses usually weigh between 15 to 26 pounds (7 to 12kg). The cheese is aged about 3 months.
The name Abondance comes from the Abondance breed of cattle and the village of Abondance, located in the Abondance Valley. The cheese is made from the milk of the Abondance breed, as well as the Tarine and Montbéliarde breeds of cattle.
The name Abondance has AOC status in France, since 1990. This means that for a cheese to labeled as Abondance it has to meet certain criteria, including where it was made, what breed of cattle the milk comes from, and what food the cattle eat.
Labeling
There are (at least) 2 varieties of Abondance cheese. Abondance Fermier is a farm-made cheese, and Abondance Laiter is a creamery-made cheese.
Depending on which source you believe (see disclaimer above), Abondance Fermier has a blue, oval label and Abondance Laitier has a square label, or Abondance Fermier has a green label and Abondance Laitier has a red label. If we ever find out the real answer from an authoritative source, we'll update this article.
Where to buy
We found Abondance cheese at amazon.com.