Purple Haze Chevre
Purple Haze is a fresh, pasteurized goat milk cheese made by Cypress Grove Chevre in Northern California. The cheese has bits of lavender buds and wild fennel pollen on the exterior, enhancing the flavor of the cheese.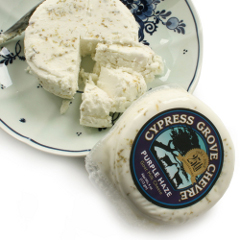 The cheese is white, about three inches across, and weighs about 4 ounces. The texture is smooth, creamy, and spreadable at room temperature, and crumbly straight from the refrigerator.
The taste of the cheese is both mildly tart and sweet and is coupled with the lavender and fennel on the exterior. The fennel is a little stronger than the lavender, but neither one overpowers the cheese.
Purple Haze is a fresh cheese, but will keep about 12 weeks if left unopened. The cheese is made from vegetarian rennet, not animal rennet, so it is safe for vegetarians.
Purple Haze is one of our favorite goat milk cheeses here at itscheese.com. Our only complaint: the cryovac plastic is not easy to open.
Where to buy
We've found Purple Haze at several high-end grocery stores in Northern California. You can also find it online at amazon.com
.