Colby Jack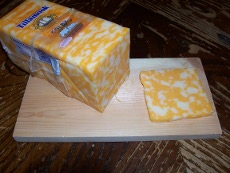 Colby Jack (or Cojack) is a combination of Colby and Monterey Jack cheeses. It has a marbled white and yellow appearance.
Similar to the cheeses it is made from, Colby Jack has a mild, mellow flavor. It is a semi-hard cheese, a little softer than most cheddars, similar in hardness to low-moisture Mozzarella.
Colby Jack can be used in almost anything in which you would use Colby or Monterey Jack. Because of its interesting marbled appearance, it is often cubed and used on cheese trays. You can also use it in soups, sauces, casseroles, and other dishes. Colby Jack does not have a long shelf life.
Nutritional Information
You can find nutritional information about Colby Jack at about.com.
Where to buy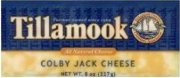 In the United States you can find Colby Jack in almost any grocery store.
You can also buy Tillamook Colby Jack Cheese online.