Casu Marzu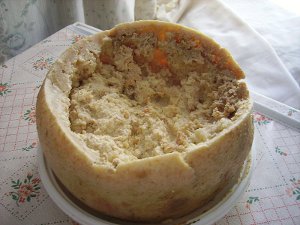 photo credit
This is one cheese we definitely do not recommend.
Casu Marzu is Pecorino from Sardinia, Italy, that contains live maggots from cheese flies. Casu Marzu means "rotten cheese" in Sardinian. The acids in the maggots digestive system further break down the fats in the cheese, which makes the cheese soft.
The cheese is created by leaving Pecorino cheese where the cheese fly Piophila casei will land and lay her eggs. The eggs hatch, and the resulting larvae eat through the cheese. Because Piophila casei thrives only at a certain temperature level, Casu Marzu is a seasonal cheese, found mostly from late spring to late autumn.
Casu Marzu is eaten while the maggots are still living. Casu Marzu that contains dead maggots is considered toxic. The maggots of the cheese fly are resistant to human stomach acid, and some larvae pass through the digestive system alive.
Until recently, Casu Marzu was an illegal cheese. However, since Casu Marzu has been classified as a traditional food, you no longer have to find the cheese on the black market.
Where to buy
The good news (for would-be Casu Marzu eaters, at least) is that the cheese is no longer illegal, and if you are in Sardinia from late spring to late autumn you should be able find some. You may have a difficult time finding the cheese elsewhere.