Burrata
Burrata is a fresh cheese from Italy made from a combination of Mozzarella and panna (cream). The outside of the cheese is a casing of Mozzarella, and the inside contains a mixture of panna and small bits of Mozzarella.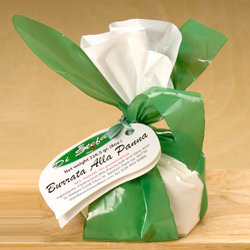 Burrata was first made in the early 1900's in the southern Italian region of Puglia. Traditionally the cheese was wrapped in asphodel leaves. Now, it is generally sold in plastic. As the cheese is gaining in popularity, it is made in more places throughout the world.
When you cut open a ball of Burrata, the center oozes out. The cheese goes well with olive oil and cracked peppercorn, or with tomato and basil. The cheese is best served at room temperature so the center can ooze out, and preferably within 24 hours of manufacture.
One variety, sometimes called Burrino is made with butter instead of cream on the inside.
Where to buy
You can Burrata online at amazon.com.
Nugget Markets in Northern California has it, but only during the summer.