Bergenost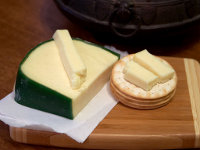 photo credit
Bergonost is a buttery, triple-cream cheese made from cows milk. Though it has a Norwegian name, it is an American cheese made by Yancey's Fancy of Corfu, New York.
Bergonost is a mild, semi-soft cheese. It has a smooth flavor with a hint of sourness. The interior is a pale, creamy color, with an exterior green wax rind. It is made in wheels, but usually sold in plastic-wrapped wedges. Bergenost is spreadable, but perhaps not as spreadable as many triple-cream cheeses.
Yancy's Fancy claims that Bergenost is a "Norwegian Style Cheese," though it's unclear what is meant by that. The cheese cultures are imported from Norway, and it has a Norwegian name. Yancy's Fancy's website does not have much information about the cheese, apart from the many awards that their cheese has won over the past decade or so.
The name Bergenost comes from two words. Bergen is the second largest city in Norway. Ost is the Norwegian word for cheese.
Where to buy
Bergenost is sold in grocery stores throughout the U.S., but may be difficult to find in some areas. If your city has a Trader Joe's grocery store, you may want to check there first. You can also order by phone from Kutter's Cheese in New York by calling (888) 700-5275.