Bayley Hazen Blue
Bayley Hazen Blue is cow's milk cheese made by Jasper Hill Farm in Vermont. The cheese is made from unpasteurized whole milk from the Ayrshire breed of cattle, a breed that originated in Scotland.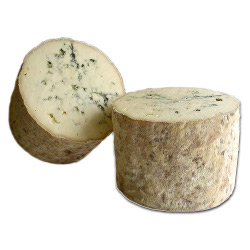 The cheese is named after the Bayley-Hazen military road. The road was commissioned during the American Revolutionary War by General George Washington, and goes through the North East Kingdom, a name used to describe the north east corner of the state of Vermont.
Bayley Hazen Blue was inspired by blue cheeses from England, but Jasper Hill Farm has made enough changes to make their cheese their own creation. The cheese has a natural, edible rind. The paste is firm, and drier and more crumbly than most blues made in the U.S. The cheese is often described to have a fudge-like quality to it.
The interior is cream color, with blue-green veins of Penicilium roqueforti throughout. The blue-green veins of mold give the cheese a peppery spiciness typical of blue cheeses, but this spiciness is well balanced with a grassy, buttery, nutty flavor that will appeal to most cheese lovers. The cheese finishes with a long, creamy aftertaste.
The cheese is made into 7 lb cylinders and is aged about 3 months. Animal rennet is used. The cheese is made every other day from the morning milking of Jasper Hill Farm's own herd.
The cheese took 2nd Place at the American Cheese Society in 2007.
Where to buy
We found Bayley Hazen Blue in several online shops, including amazon.com.
We also found a chocolate company from Vermont that uses Bayley Hazen Blue in their chocolate truffles.